iPhone 12
Blast past fast.
5G speed. A14 Bionic, the fastest chip in a Smartphone. An edge-to-edge OLED display. Ceramic Shield with four times better drop performance. And Night mode on every camera. iPhone 12 has it all — in two perfect sizes.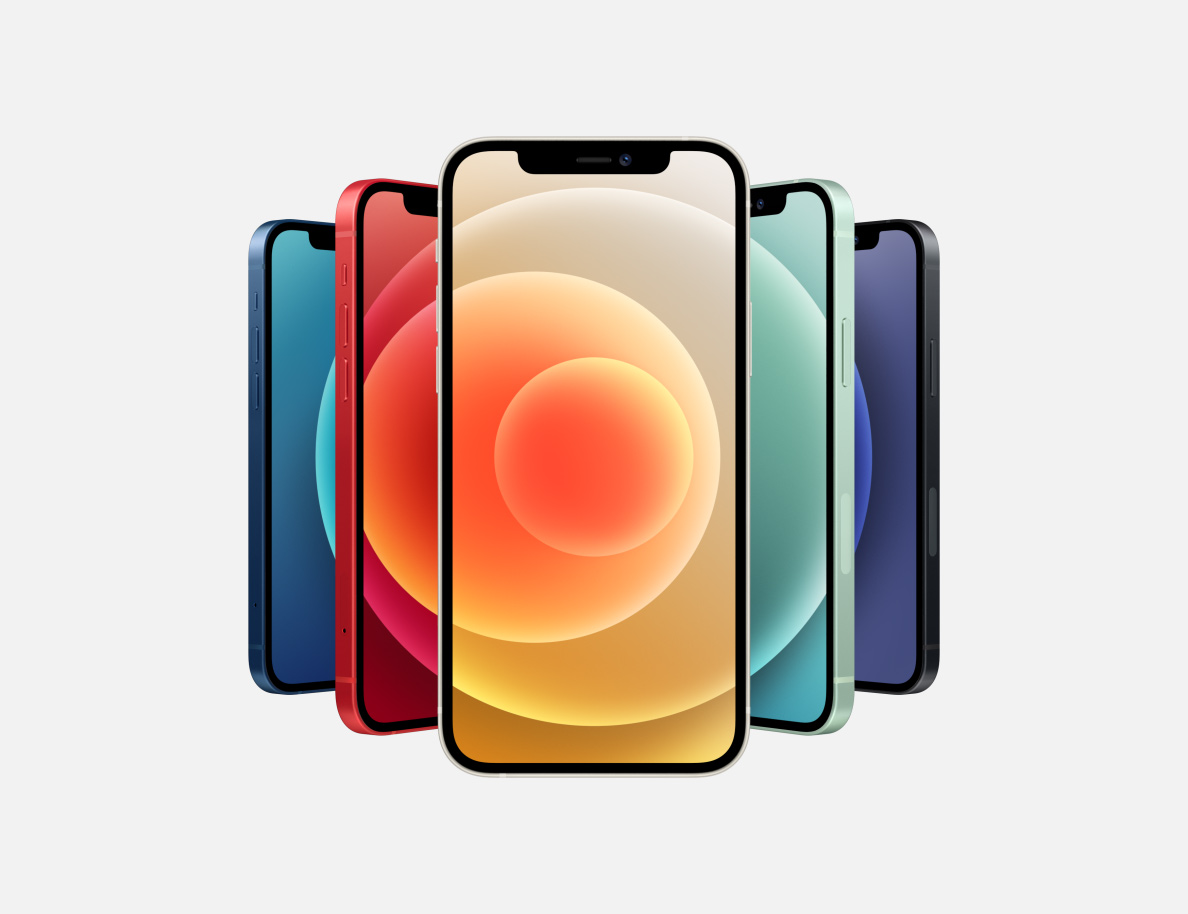 Design
Big news

.
iPhone 12
11%
thinner than iPhone 11
15%
smaller than iPhone 11
16%
lighter than iPhone 11
6.1" Super Retina XDR display
iPhone 12
11% thinner than iPhone 11
15% smaller than iPhone 11
16% lighter than iPhone 11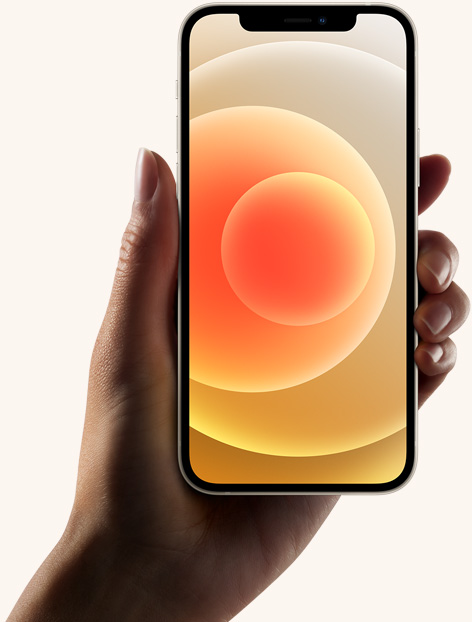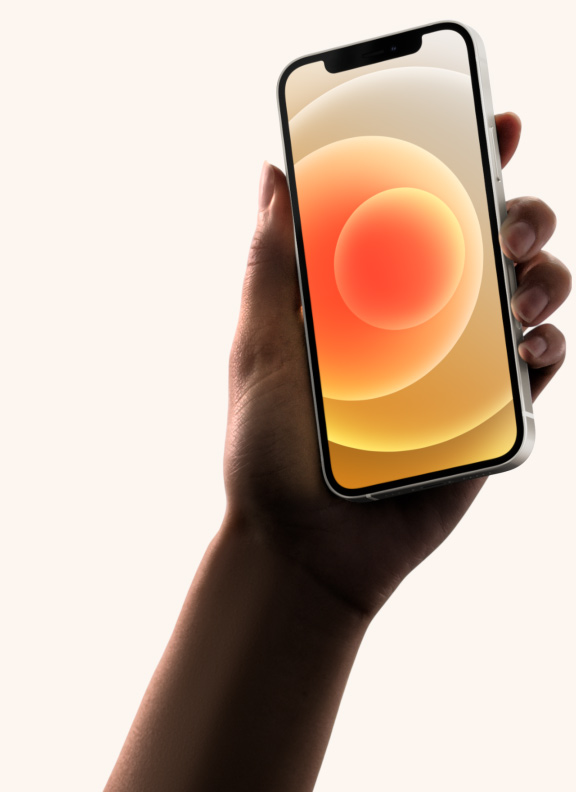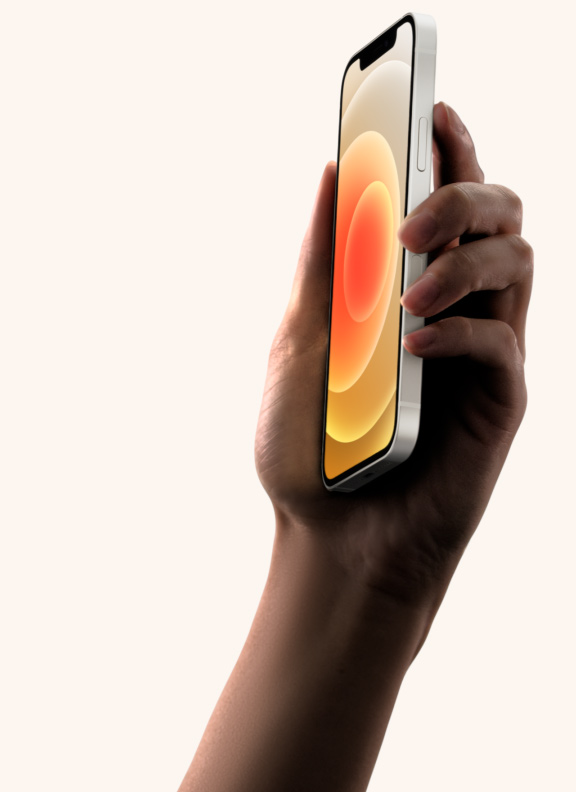 Mini news.
iPhone 12 mini
5.4" Super Retina XDR display
The world's smallest, thinnest, lightest 5G phone.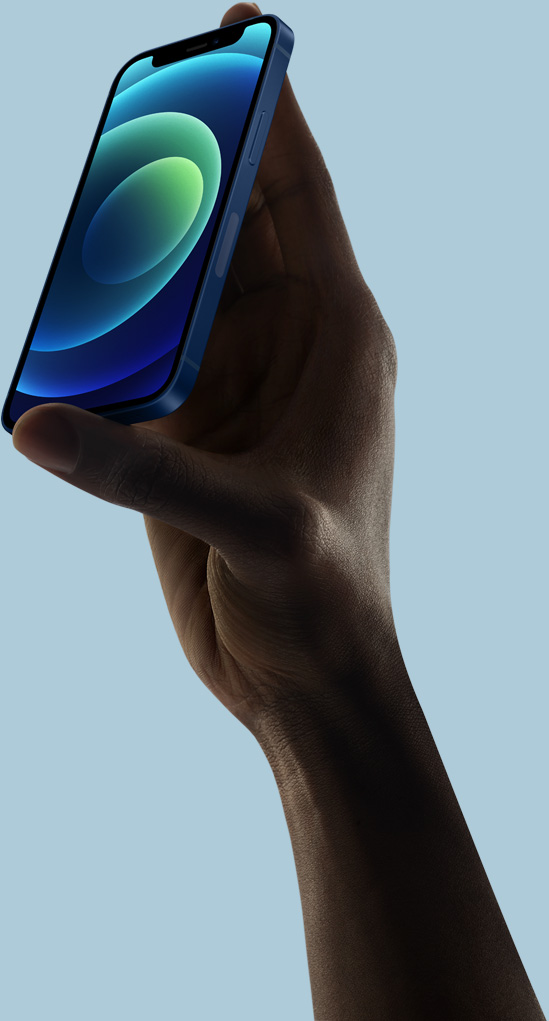 Ceramic Shield. Clearly tougher than any smartphone glass.
4x better drop performance
Aerospace-gradealuminum edges.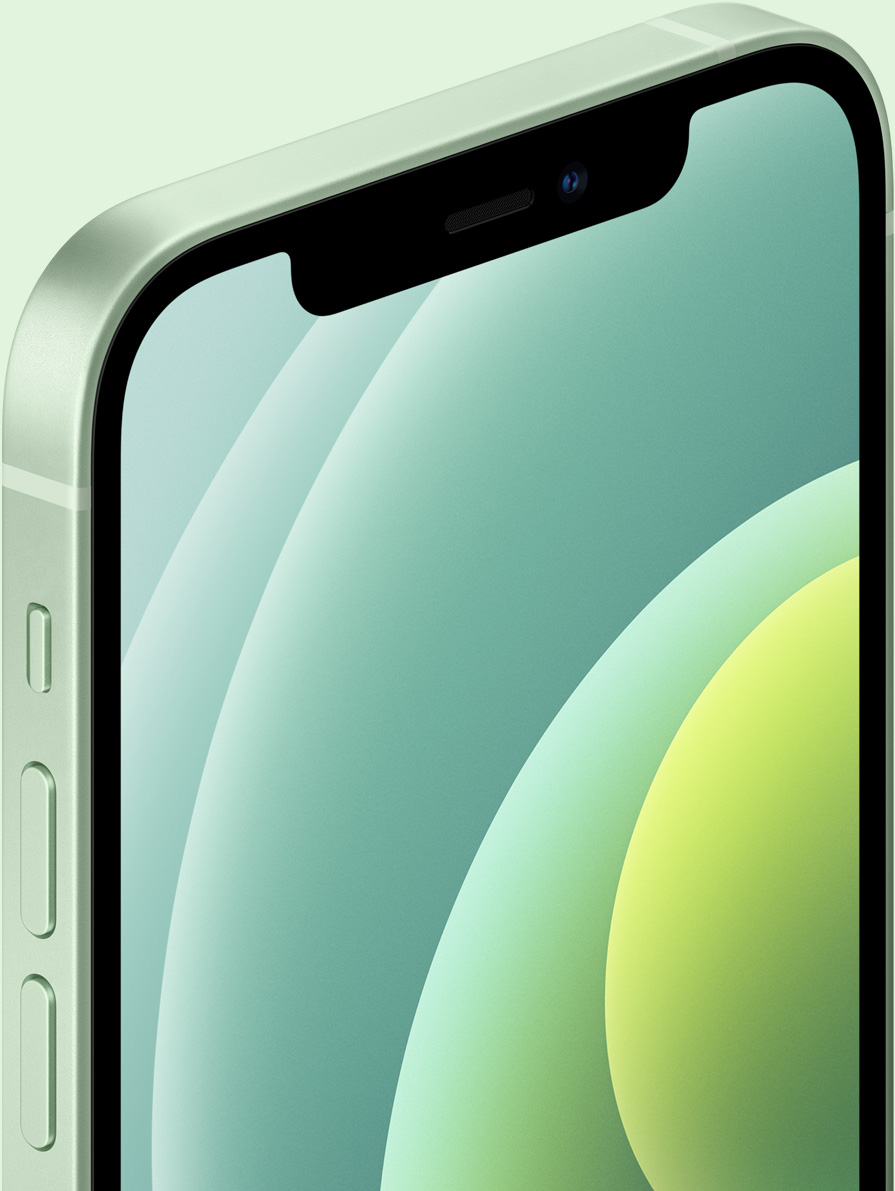 H2OK
Even better spill and splash resistance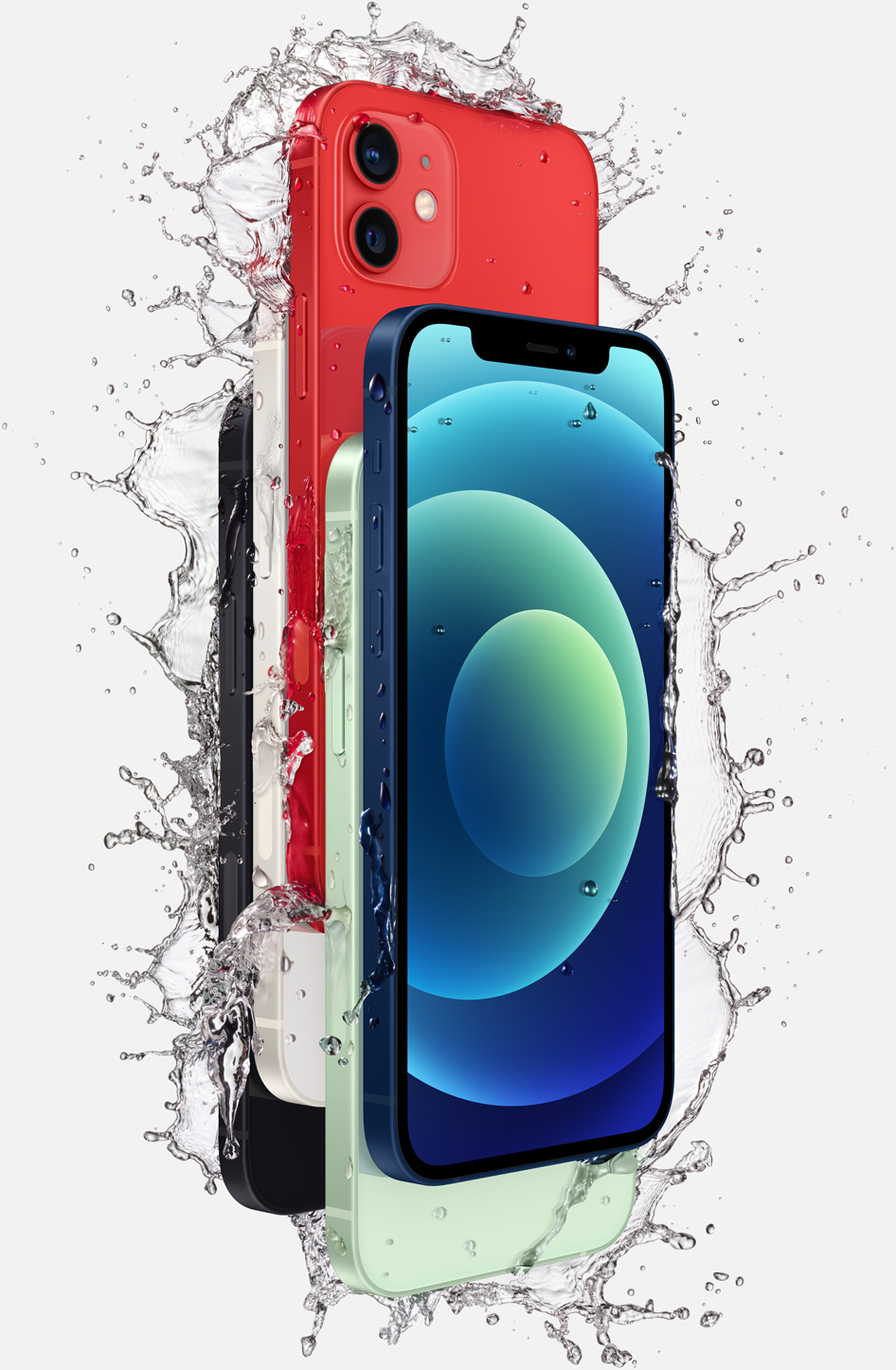 Five fresh finishes.

iPhone 12 in navy blue
iPhone 12 in green
iPhone 12 in red
iPhone 12 in white
iPhone 12 in black
5G on iPhone
5G speed
OMG.
5G on iPhone is superfast. So you can download movies on the fly. Stream higher-quality video. Or FaceTime in HD over cellular. With lots less lag. And you can do it in more places, because iPhone 12 has the broadest 5G coverage worldwide.
iPhone makes the most of 5G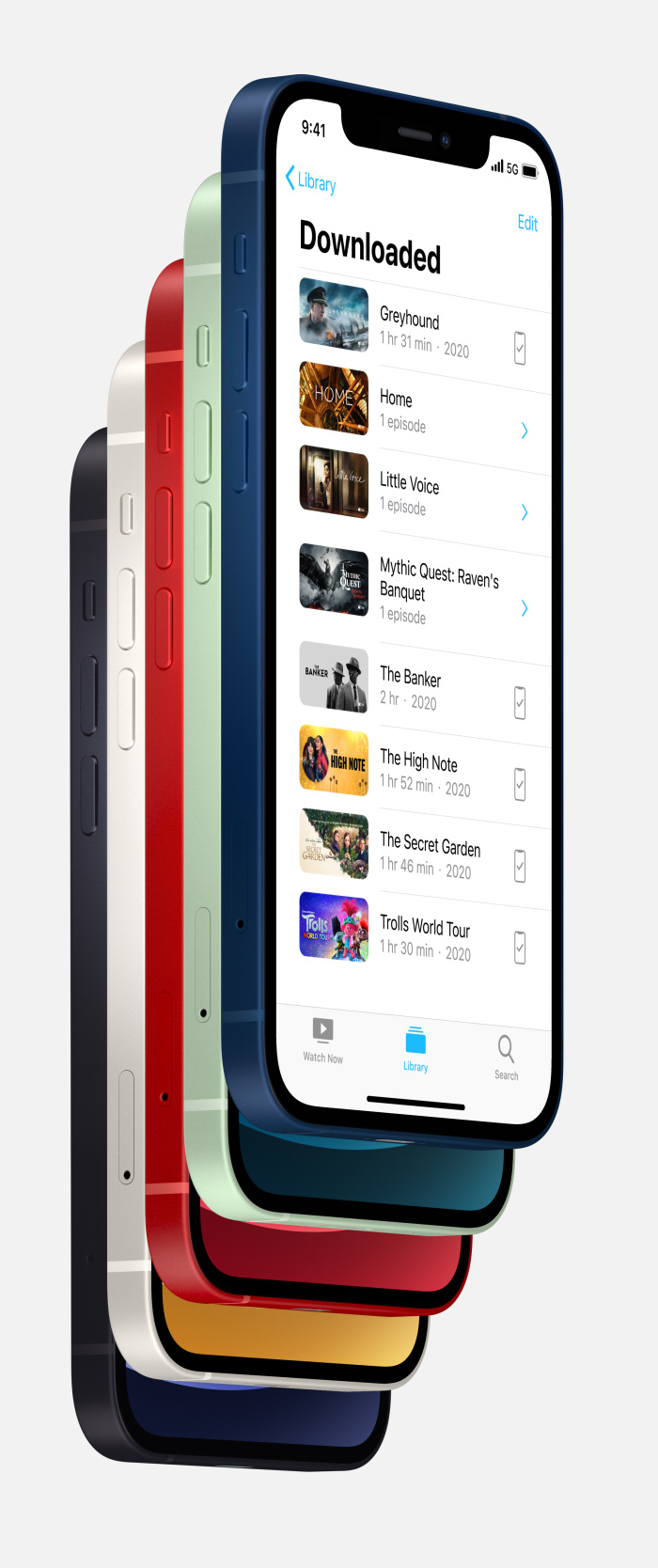 A14 Bionic Chip
11trillionoperationspersecond.
A14 Bionic is the fastest chip in a smartphone.
And it pushes what's possible. Like crunching trillions of operations on the Neural Engine. Or shooting in Dolby Vision — even pro movie cameras can't do that. It's superefficient for great battery life. And it's ahead of its time, prepared to power pretty much anything that comes next.
Same chip as iPhone 12 Pro
Display
Super Retina XDR display
Behold OLED.
Vastly more contrast. Incredible color accuracy. A huge jump in pixel density. Wow. Just wow. OLED delivers brighter brights, darker blacks, and higher resolution for everything you look at. This is the best iPhone display we've ever made, and it goes all the way to the edge.
Our best iPhone display ever
Camera
Dual‑camera system
Welcome to the dark side.
Both the Wide and Ultra Wide cameras now have Night mode — and it's better than ever at capturing incredible low-light shots. The new Wide camera brings in 27 percent more light. So whether you take photos by day or by moonlight, you'll get a level of detail and color that wasn't possible before.
Evenings have entered the picture.
Night mode
senses when light is low and kicks in automatically, maintaining clarity while capturing beautiful vibrant color. All you have to do is start snapping.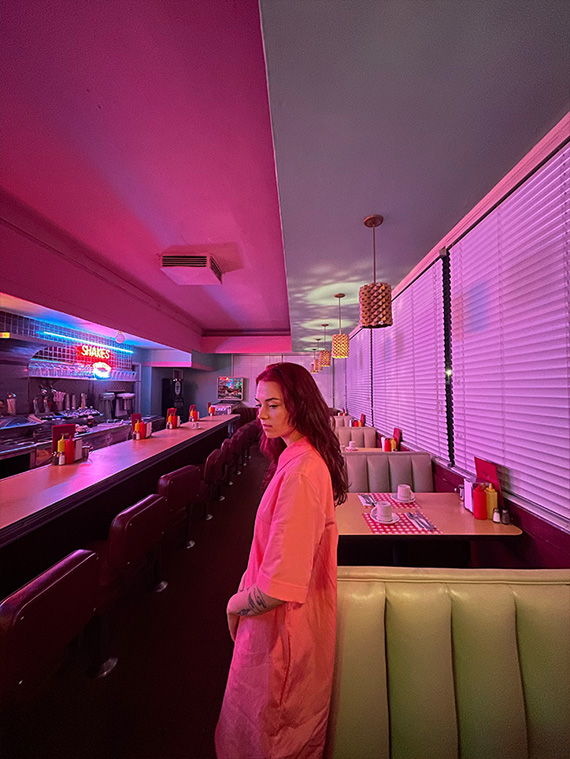 Photos that were once hard to capture — like a dramatic moonlit scene — now come out sharper than ever.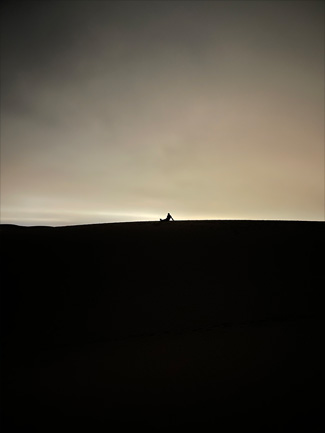 Deep Fusion,
in mid to low light, analyzes multiple exposures to maximize detail. Check out the texture in the wood, fabric, and crystal. And the Ultra Wide gets you a heroic perspective.

Automatic magic.
Smart HDR 3
balances the elements in a shot, bringing out detail in the subject and trees while retaining the rich color of the sky — even at high noon.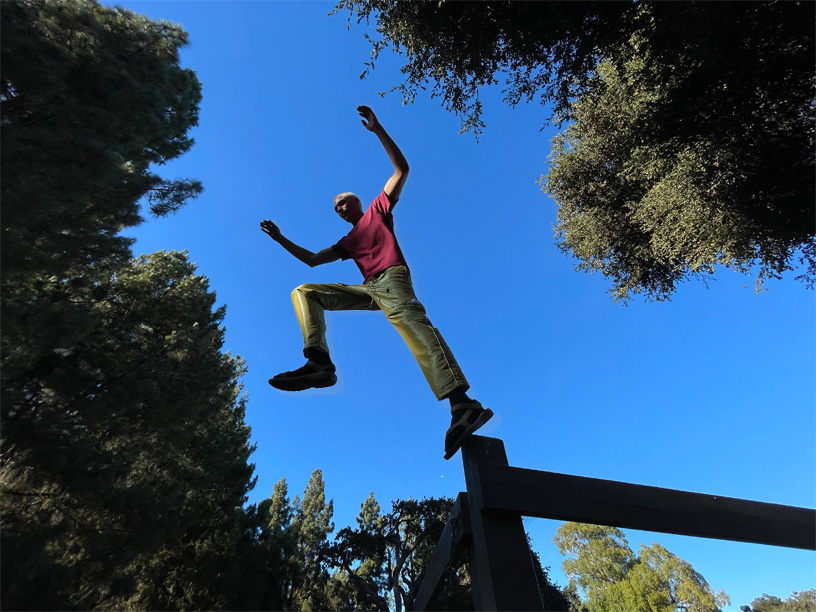 Beyond faces, Smart HDR 3 uses machine learning to recognize scenes, then adjusts sharpness, color, and white balance where needed.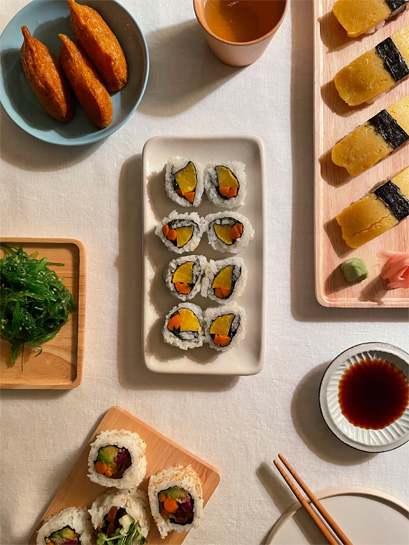 Even in bright light, Smart HDR 3 is amazing at capturing texture, skin tone, color saturation, and individual details that make photos feel true to life.
Face it. Nothing beats Portrait mode.
Portrait mode
is even better at artfully blurring the background to put all the focus on your subject. Lovely, isn't it?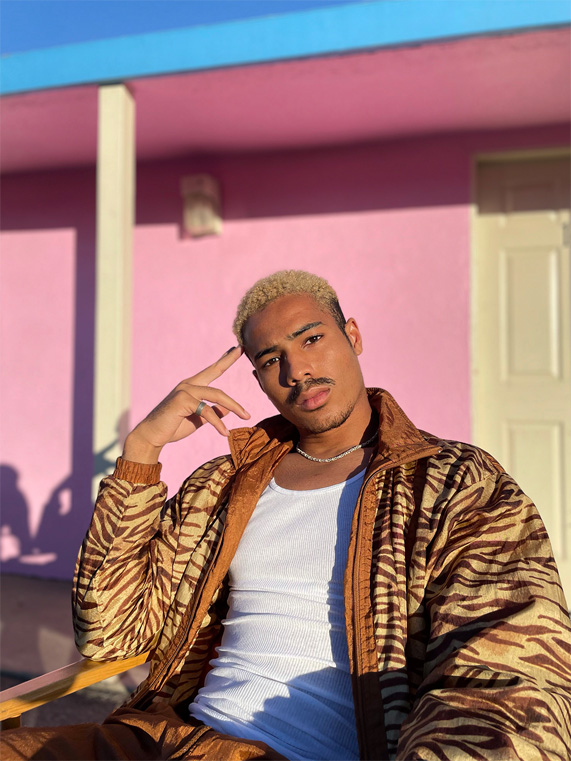 Take great photos even further by choosing from six creative lighting effects, like High‑Key Light Mono, Natural Light, and Studio Light.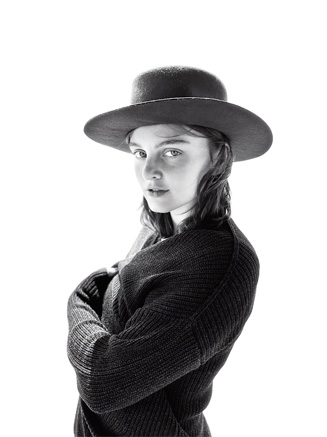 Video
Low lights.
Camera.
Action.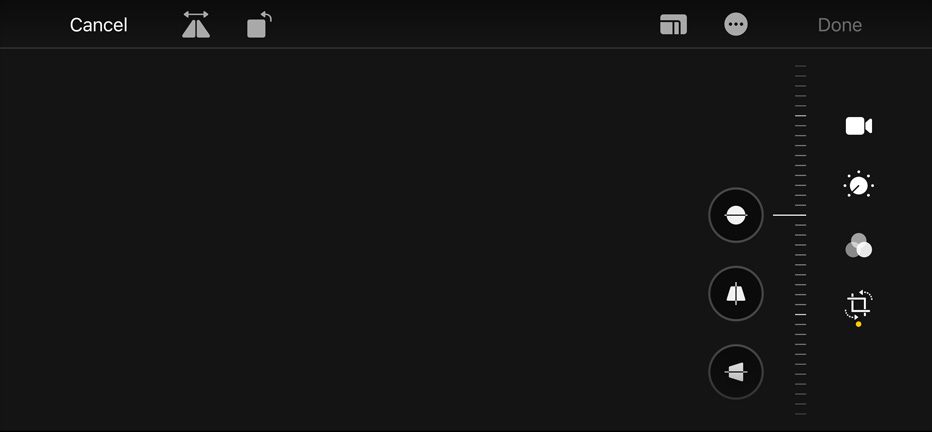 How do you improve on the highest-quality video in a smartphone? Make it even better in low light — a full 27 percent better. That means no hour is off limits for more beautifully detailed video. Then there's Night mode Time-lapse. Just prop up your iPhone and let the light trails begin.
And boom. You own a film studio.
Now you can record 4K HDR video with Dolby Vision. Edit in Photos or iMovie. Then zap it to your TV using AirPlay7 to see all that color and detail. It's a start-to-finish cinematic experience — found only on iPhone. Which comes in handy when your dog does something adorable.
First camera ever to record in Dolby Vision
Find out how
TrueDepth Camera
Night mode selfies
You look amazing in the dark.
Nighttime is the right time for a selfie. Because Night mode and a slew of other great features are now on the front camera. Like Deep Fusion, Smart HDR 3, Dolby Vision recording, and more. You lucky duck face.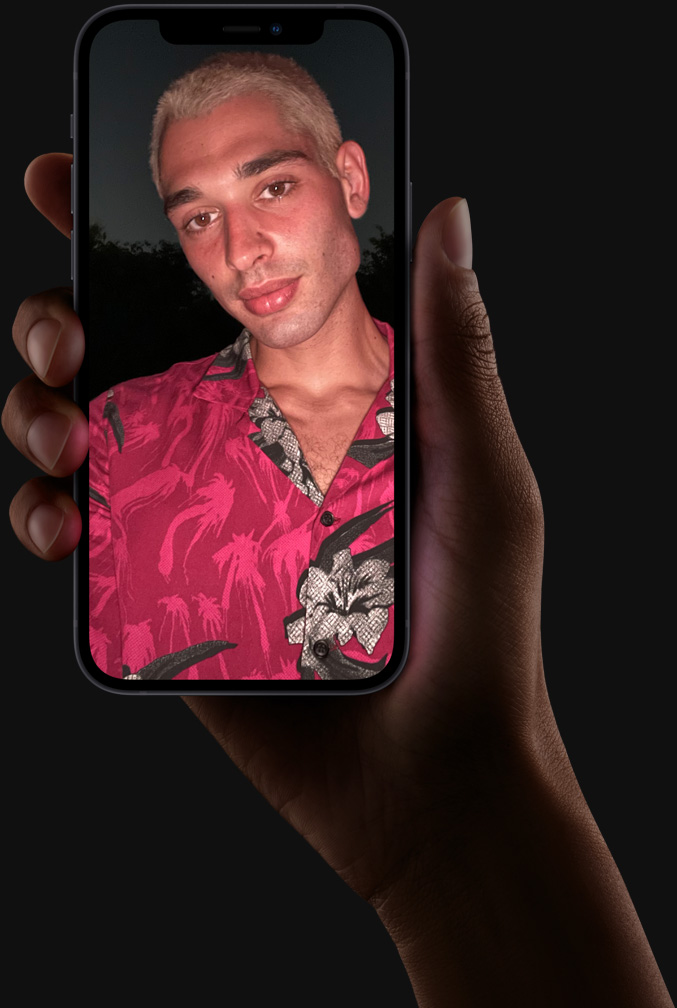 MagSafe
MagSafe accessories
Everything just clicks.
Beautifully stackable.
Snap on a new MagSafe case, wallet, or both. (Fear not, the wallet is shielded so it's safe for credit cards.)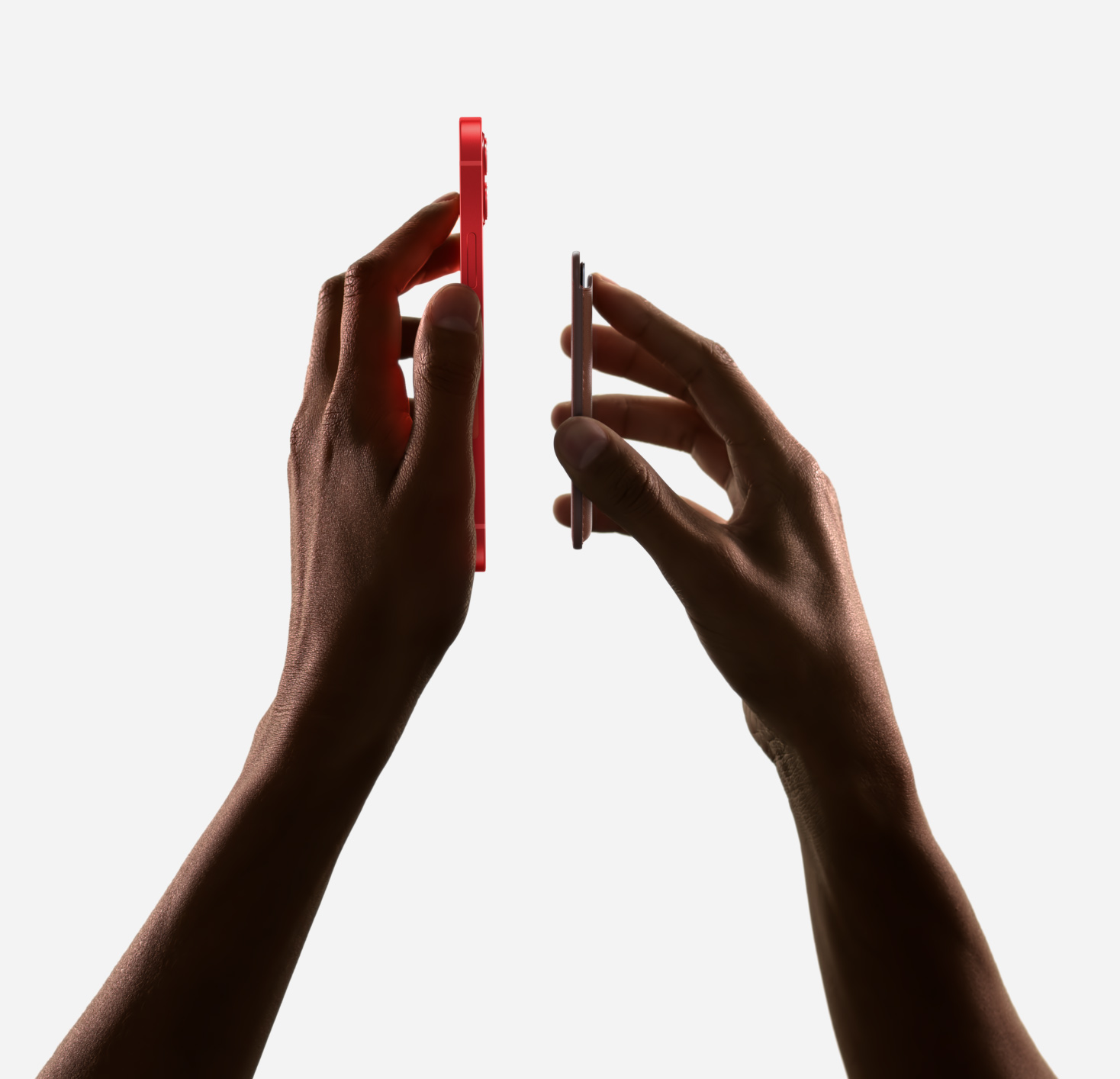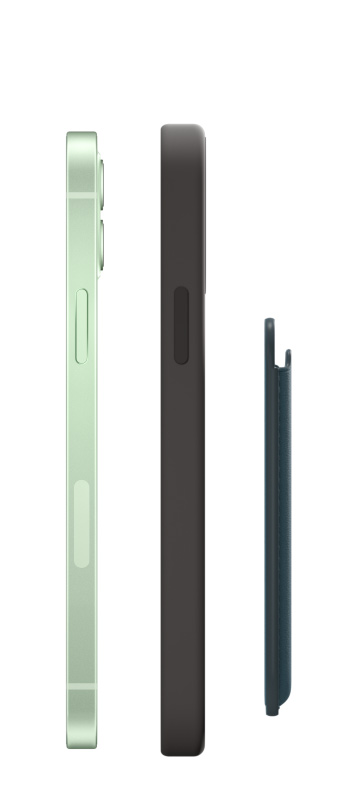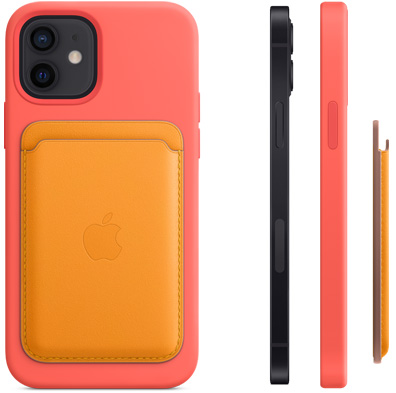 Turbo chargeable.
Magnets align themselves perfectly every time for faster wireless charging.
Mix and matchable.
iOS 14
Get right to the good stuff.
iOS 14 is packed with shortcuts that get you just what you want, right when you want it.
Pinned conversations in Messages put the people you talk to most right at the top of the list.
Widgets have been redesigned to serve up info you want at a glance — right on your Home Screen.
App Clips let you use a small part of an app to quickly do things like pay for parking or order takeout.
Privacy
Privacy is built in.
iPhone is designed to protect your information. Face ID data doesn't leave your iPhone and is never backed up to iCloud or anywhere else. iOS shows you an app's privacy practices before you download it. When you use Apple Pay, your card number isn't shared with merchants. And the list goes on.
We reduced our carbon footprint. By thinking inside the box.
Across the iPhone family, we're removing the power adapter and EarPods that often go unused, but including the fast-charging USB‑C to Lightning cable that most people need. That shrinks packaging, and more boxes per shipment means fewer shipments overall. We're also transitioning our manufacturing partners to renewable energy. Altogether, this eliminates over 2 million metric tons of carbon emissions annually.
Carbon savings equal to 450,000 fewer cars on the road per year