The most advanced health monitor on a smartwatch
The watch that watches out for you. Galaxy Watch3 combines smartphone-level productivity and leading health technology in one premium and classic device. Our most advanced Galaxy watch yet, Galaxy Watch3 helps you effortlessly manage your life and health — putting your well-being in your hands.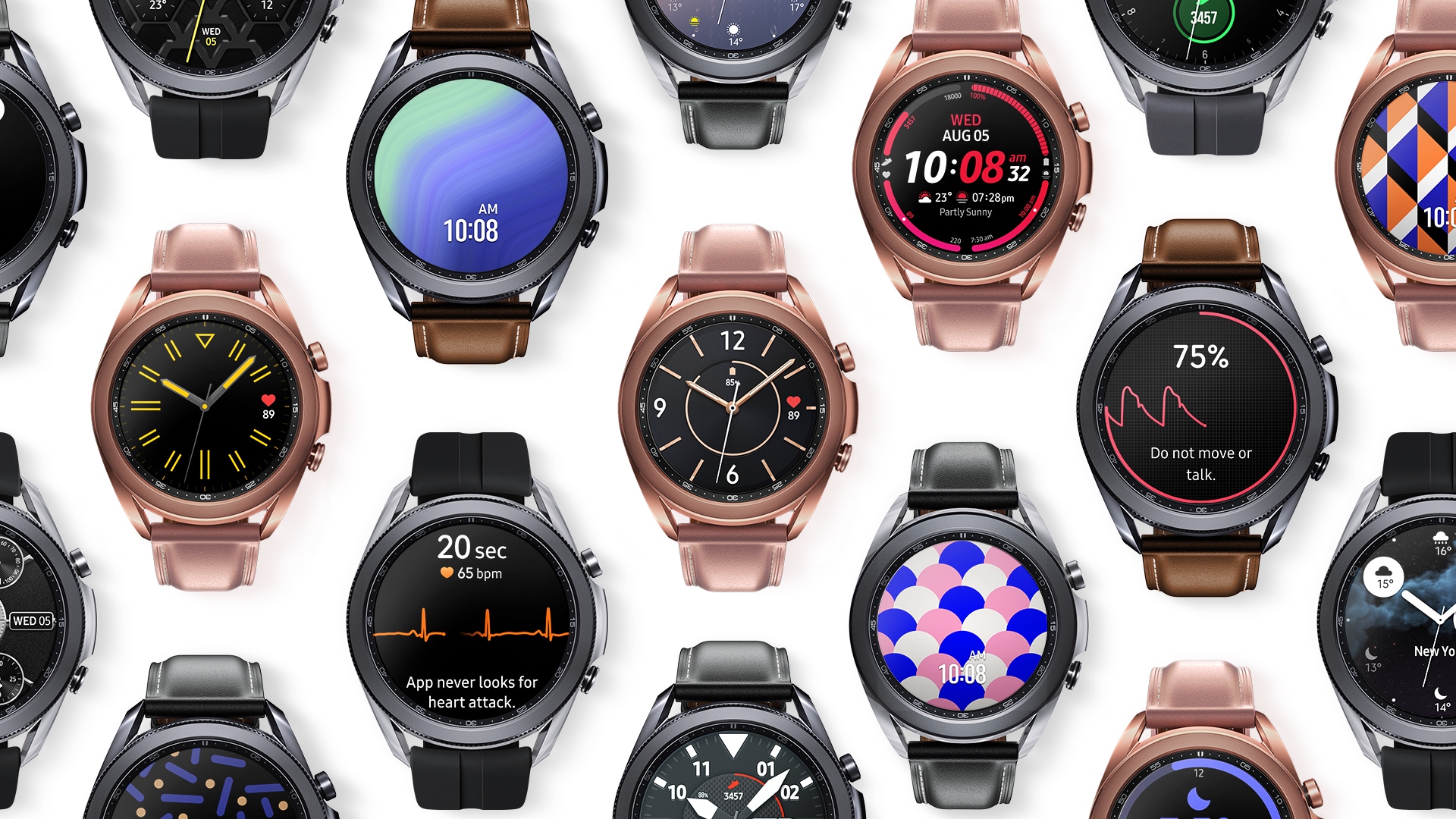 CLASSIC AND PREMIUM
The only smartwatch with precision rotating bezel for app navigation
Take your pick of two sizes, 45mm or 41mm, each with a face you won't soon forget. Available in premium Mystic Black, Mystic Silver, and Mystic Bronze hues, the elegant design is outlined in a unique rotating bezel for a look that works around the clock.5
45mm
Mystic Black
41mm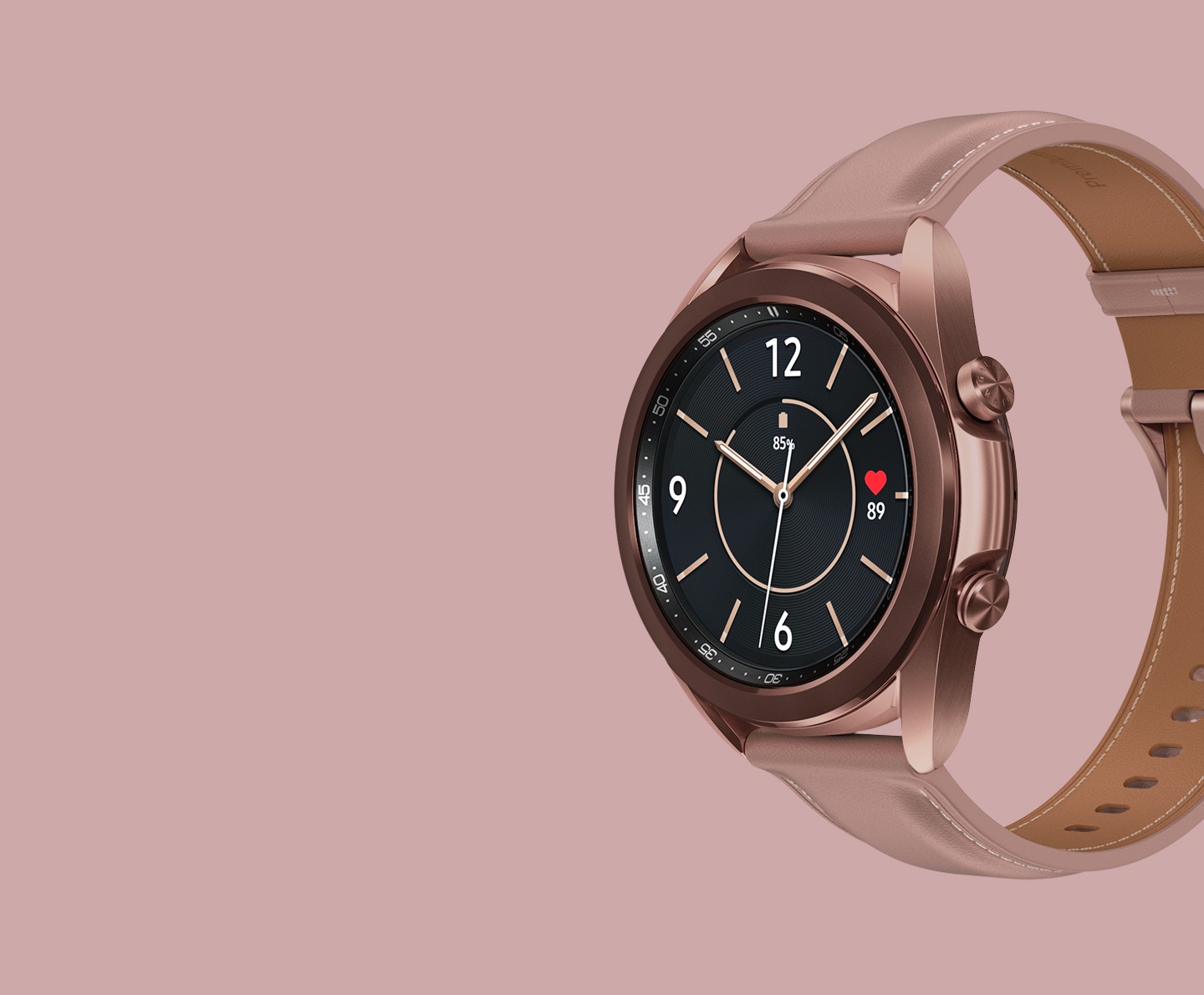 DIGNIFIED DESIGN
Bigger display, Yet lighter and slimmer for comfort wear
Outlined in a subtle rotating bezel, it's easier to see and focus on what matters with an even bigger screen. Galaxy Watch3 is thinner and smaller, yet about 15% lighter with a sophisticated look that's ideal for your wrist with its slimmed down frame.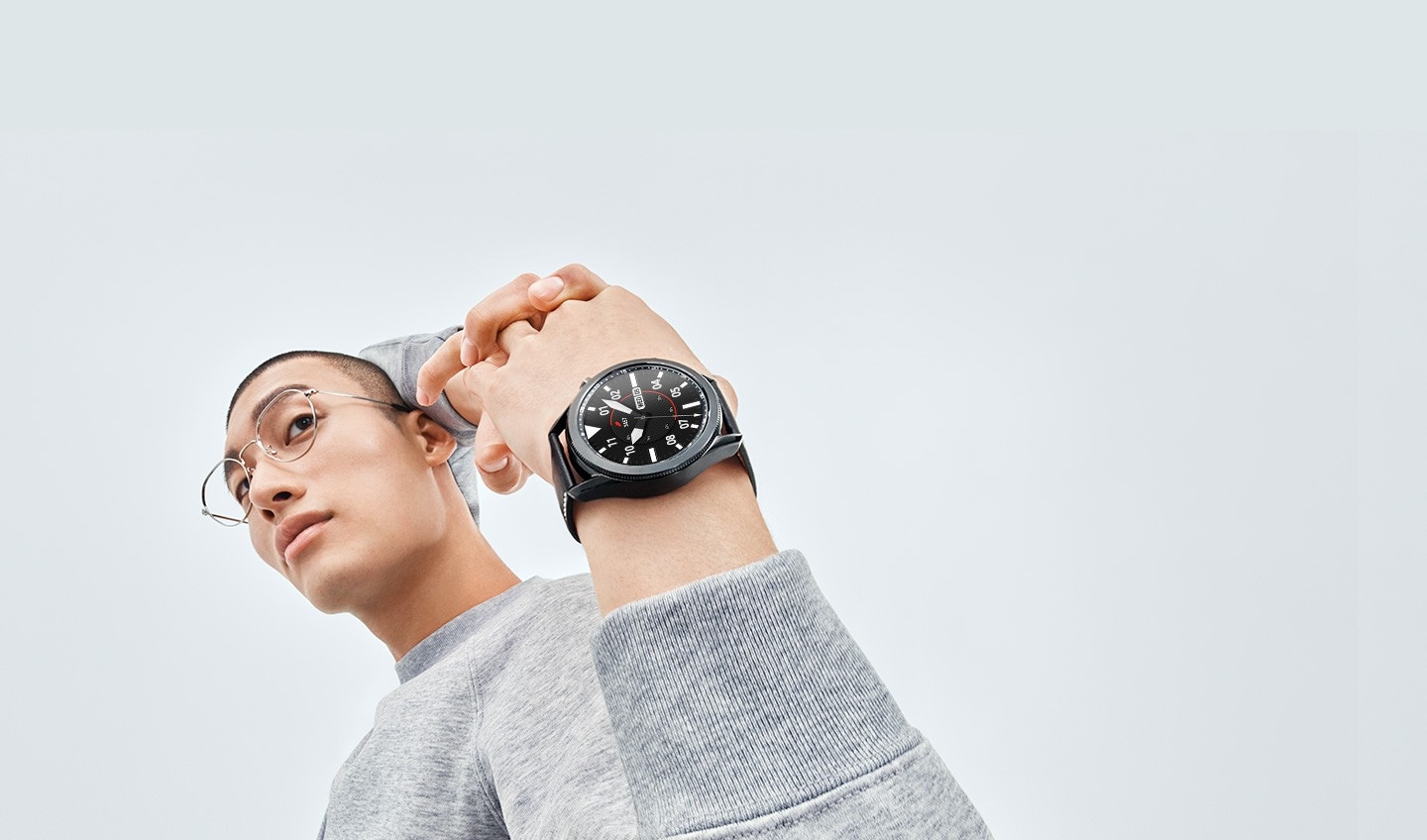 LEATHER STRAP
Premium quality, down to the strap
Galaxy Watch3's design is polished off with a premium genuine leather strap. Aged leather creates a natural look, and when you turn it over, see strengthened leather that protects against discoloration.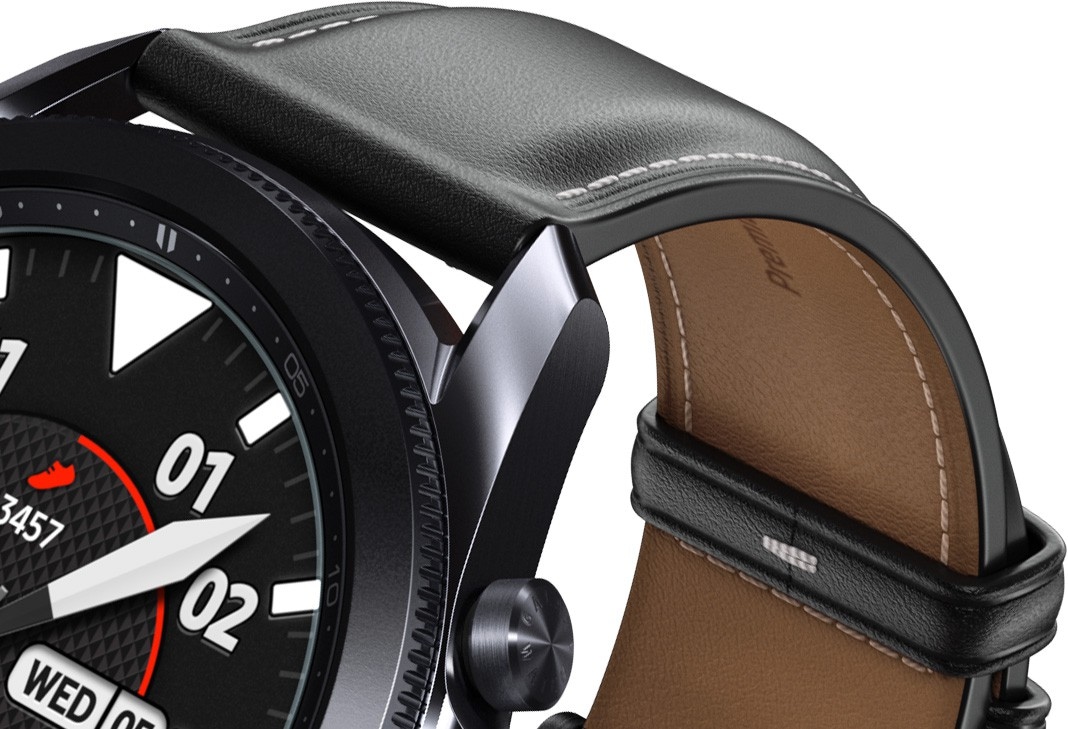 WATCH FACE
Beauty with smarts to match
Complete Galaxy Watch3's signature look with the largest number of watch faces to choose from, all matching its sleek body. Make your own combination with over 40 complications, and see the useful information you need at a glance while easily accessing your favorite apps.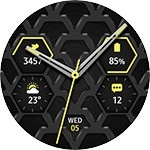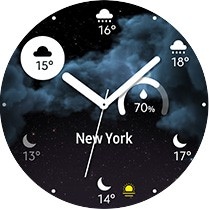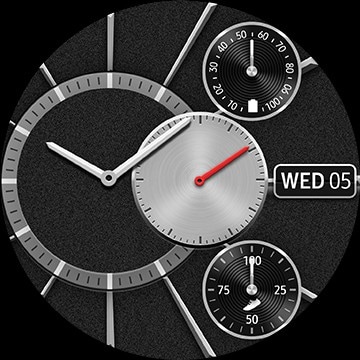 Take your health into your own hands, with your wrist
BLOOD OXYGEN
Breathe easier with built-in oxygen measurement
Galaxy Watch3 uses red LED and infrared rays to estimate your SpO2 levels, or the amount of oxygen in your bloodstream. Because this oxygen saturation is directly linked to physical performance, you can use Galaxy Watch3 to push your routine to the next level.
Angled view of a 45mm Galaxy Watch3 in Mystic Black with Blood Oxygen measurement GUI.
FALL DETECTION
Fall detection that won't fall down on the job
Explore fearlessly. Galaxy Watch3 automatically detects hard falls with its enhanced accelerometer, sending an SOS to your emergency contact with your location.9, 10, 1, 12
SLEEP SCORE
Get a better night's sleep
Galaxy Watch3 records your REM cycles, deep sleep, and total sleep time to score and help improve the quality of your rest. Samsung partnered with the National Sleep Foundation to include educational content and sleep tips right on your device, to help you understand and improve your sleep.13
HOME WORKOUT
Hit your best, then do it again
Equipped with over 120 home workout programs to choose from, Galaxy Watch3 helps you get your body moving on your time. Pick from your phone and cast to your TV – as you work out, it'll display your heart rate in real time. Use the Ridge Sport Band for even more accurate stats.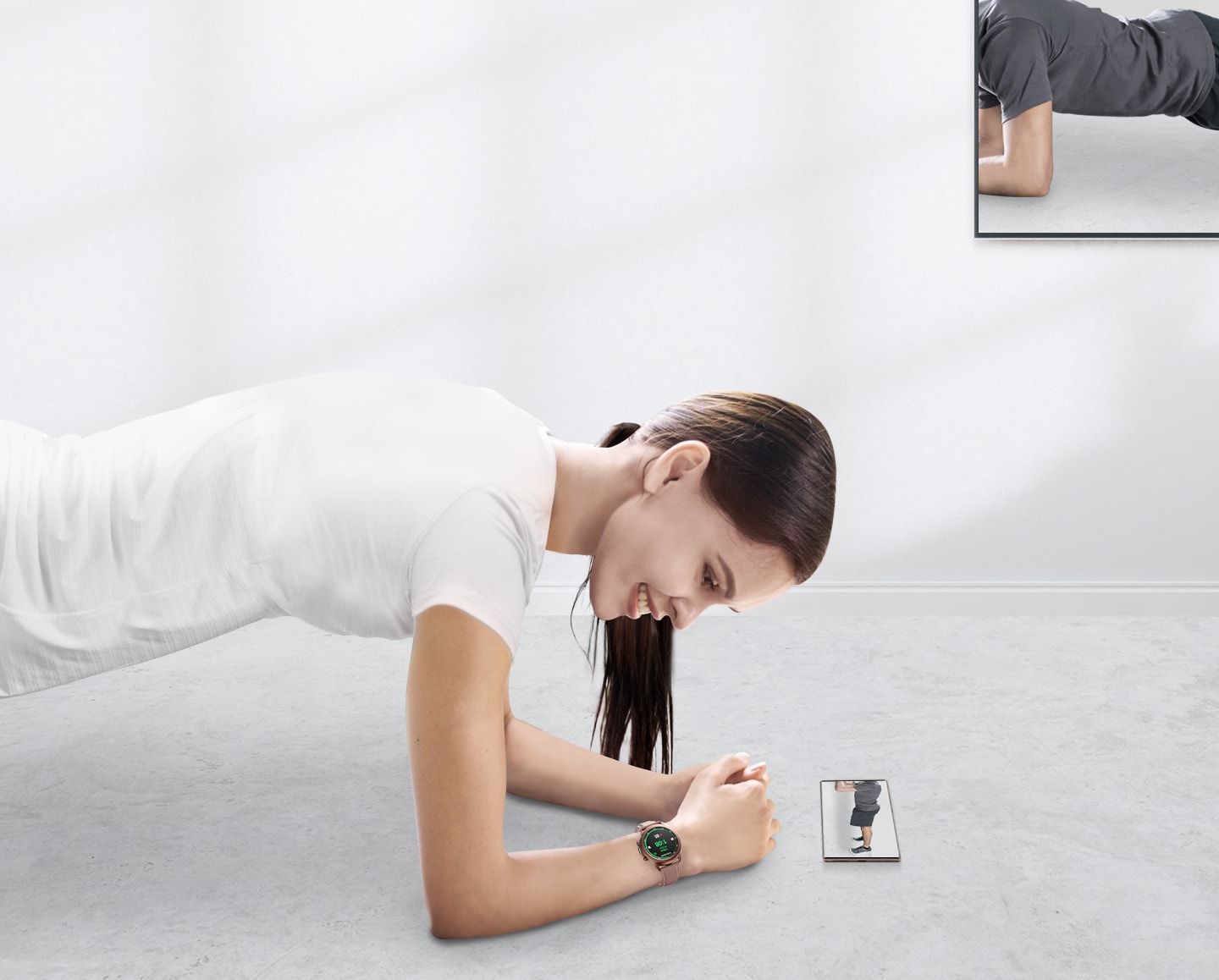 RUNNING ANALYSIS
Improve every stride
Galaxy Watch3's running guide lets you keep pace as you get tips on the go. The advanced algorithm analyzes how you move to help improve your form and prevent injuries. You can even measure VO2 max values and keep up with your daily, weekly, and monthly performance right from your phone.
Smartphone-level power is now within reach
AUTO CHAT HISTORY
Keep the conversation going
When you get a new text, Galaxy Watch3 shows your chat history so you can effortlessly follow the conversation. You can also see images without an extra tap, making it even easier to keep the mood going while on a run.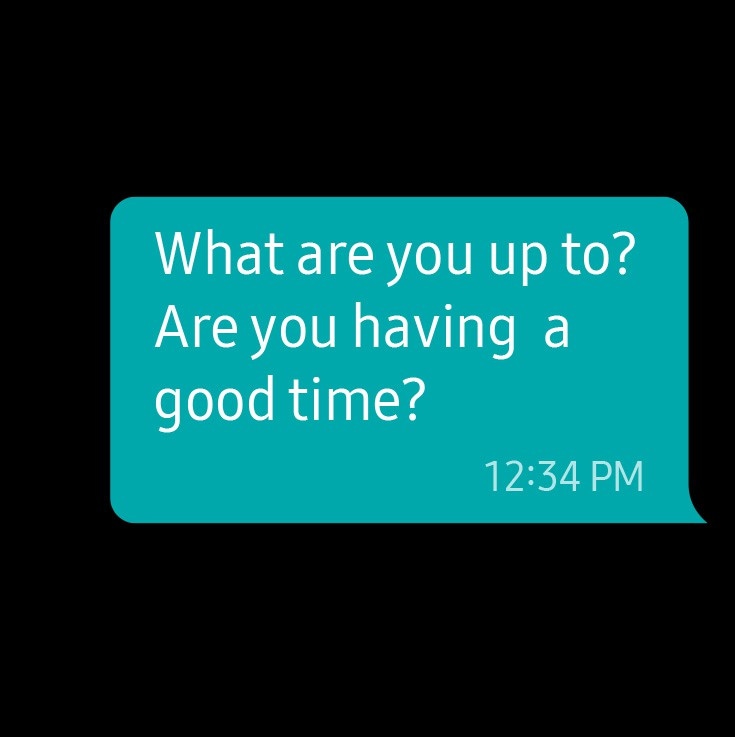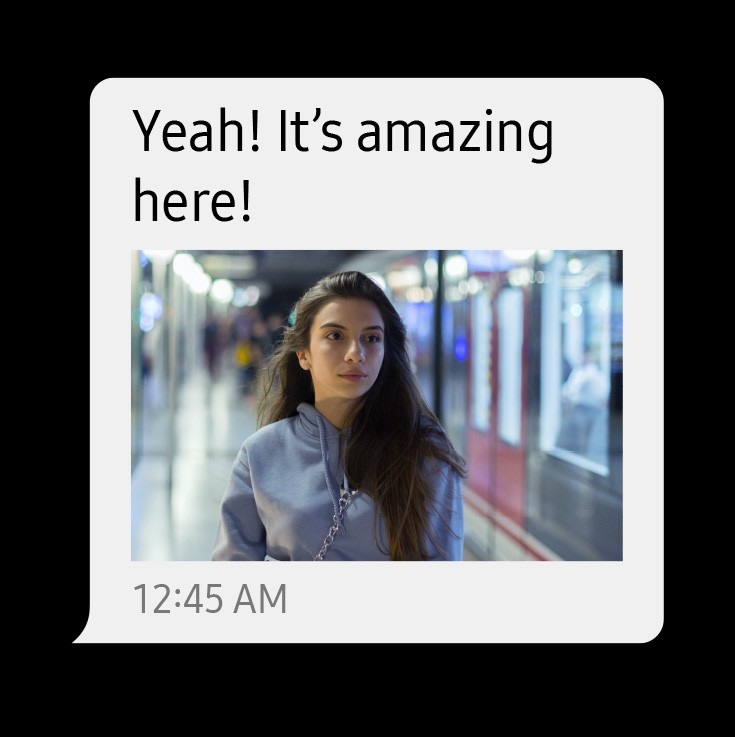 SMART REPLY
Add a little context with smart reply
Stay connected with others even on the go – and without fumbling to reply. Galaxy Watch3's smart reply analyzes texts and photos you receive and gives you suggested replies, supporting different categories that include food, celebrations, selfies, and more.
BITMOJI
More fun in your messages
Bitmoji stickers open up fun new ways to communicate. Personalize your Bitmoji to look just like you and use Bitmoji stickers to jazz up the way you talk to family and friends.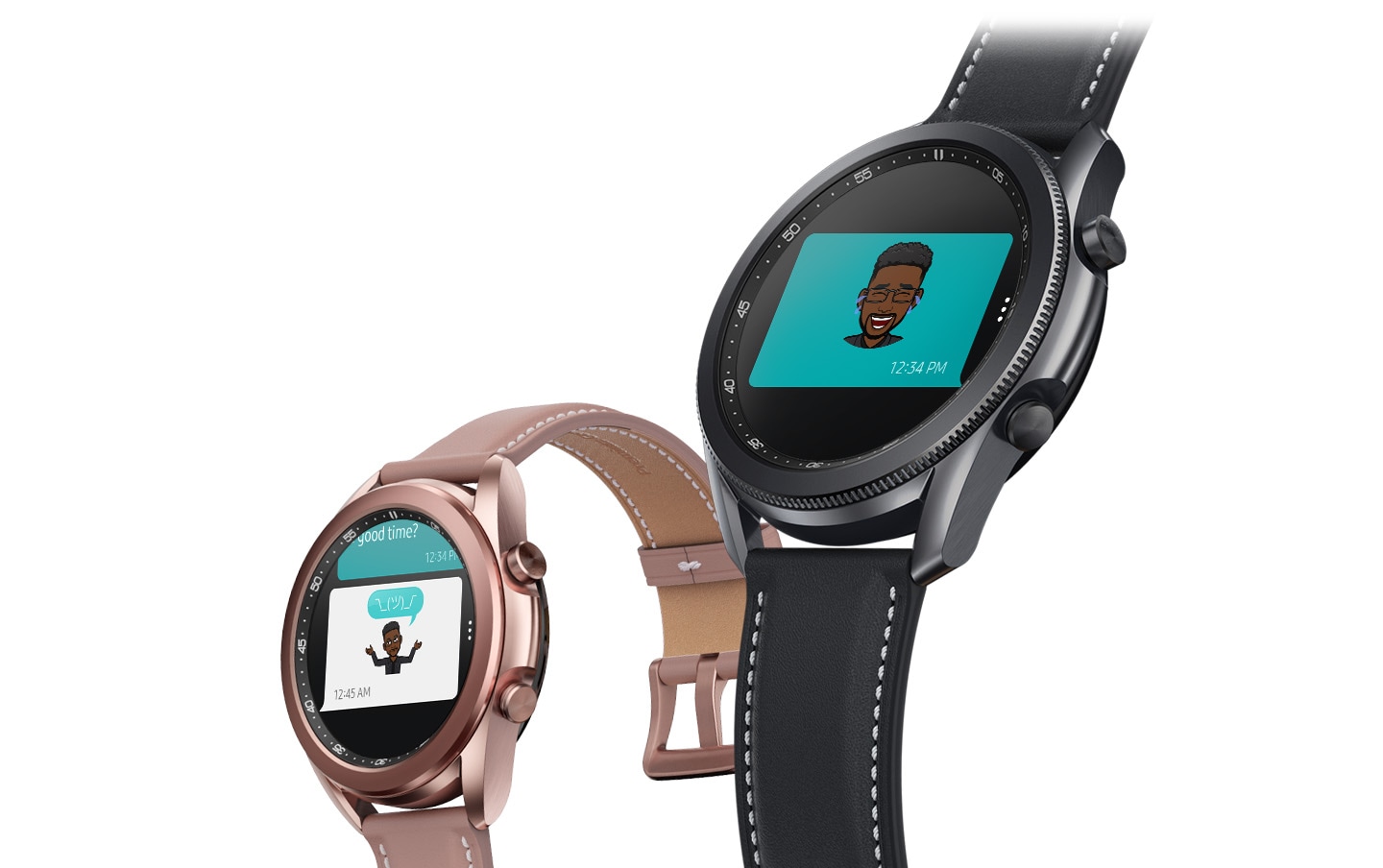 WATCH APPS
Team up with other apps
Put together a team of Galaxy Apps to join you and your phone in your day-to-day. Find your phone and see your phone's photos from your watch, or switch between devices to control your music and check reminders. The perfect partners are all on your wrist.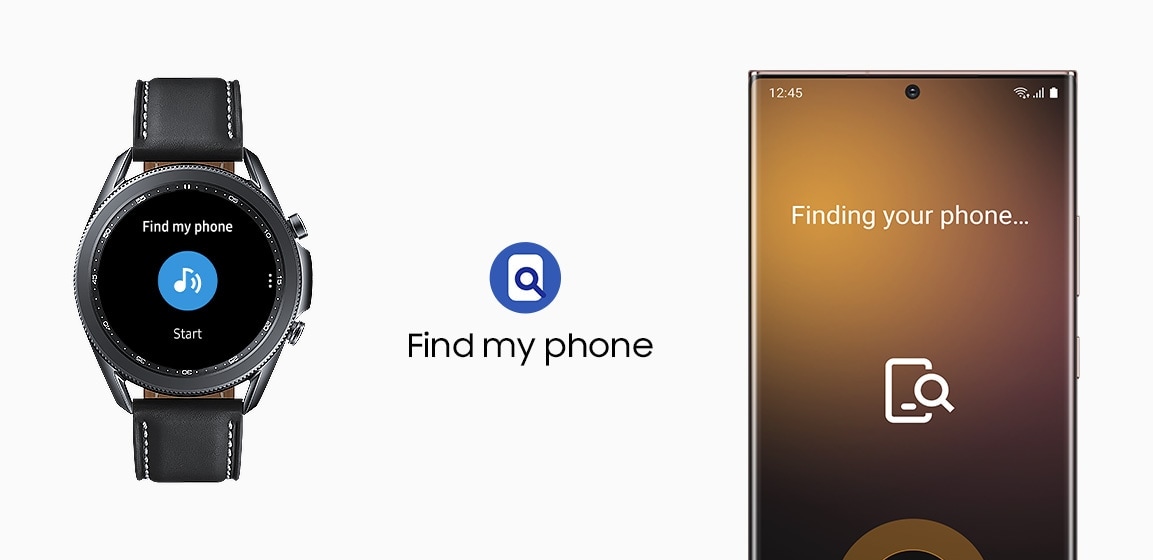 LTE
Leave your phone at home
Go out for new experiences without the weight of your phone. You can still call, stream, and check your steps — all from your watch. Disconnect from your phone, while staying connected with life.
A powerful experience enhanced with Galaxy favorites
5ATM / IP68A water and dust rating that shows Galaxy Watch3 can handle a little water or dirt.31, 32
Military-grade durability
You're ready for extreme weather and temperatures with durability made for an active lifestyle.
GPS
Know your location and handle detours with ease, together with a built-in barometer sensor.34
WHAT'S IN THE BOX
Ready for action right out of the box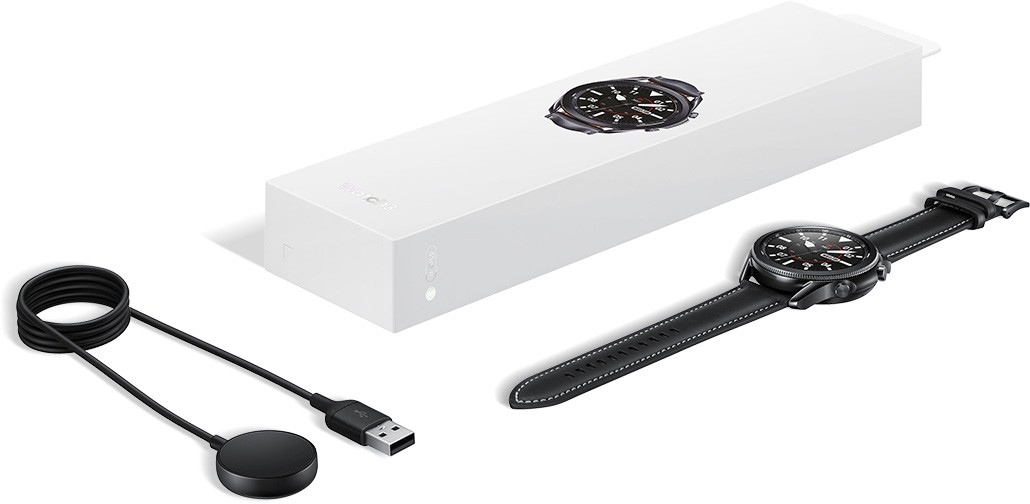 GALAXY ECO SYSTEM
More ways to power up your work and play
Simply connect Galaxy Watch3 to your compatible Galaxy devices through your Samsung Cloud account. As you go to work or workout, it's quick and easy to go from watch to Galaxy Note20, or from watch to Galaxy Buds Live via Bluetooth.35
COMPATIBILITY
Gets along with other devices
Galaxy Watch3 is compatible and can easily connect with a range of Galaxy and non-Galaxy devices.
*Compatible with Android 5.0 (L OS) or higher, RAM 1.5GB above.
*Compatible with iPhone 5 and above, iOS 9.0 or above.
*Compatible smartphones and available features may vary by region, carrier and device.
*Activation feature for Mobile Network of Galaxy Watch3 with non-Samsung smartphones may not be available in some countries.